Isolated rural complex, in the nature, surrounded by the landscape of big beauty, next to the river Júca and to the river of Villalgordo of Jucar. Typical Mediterranean landscape with pines, vineyards, olives and kermes oak. It has two wonderful attached livings but fully independents, the House of Mirador (6 bedrooms, category 3 ears) and Casa del Pinar (5 bedrooms, category 2 ears), wonderfully decorated, fully equipped fo the familiar life and fully independents regarding to the access, stays, parking areas, own seervices, etc and both with swimming pool. You can see the beautiful landscape, the Valley of Júcar.

The rural complex offers the possibility of develop in its facilities, events and special celebrations such as communions, baptism or even weddings with catering.

WHERE TO GO
palacio de los gosalvez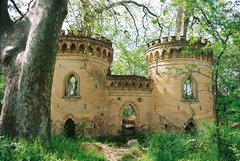 palacio tipo versallesco enclavado a las orillas del rio jucar
vertice10- turismo activo

descenso en kayak por el rio jucar y otras actividades
Alcala del Jucar

Alcalá del Júcar está enclavada en un entorno excepcional, en un cerro a cuyos pies se encuentra la hoz formada por el río Júcar.
ENVIRONMENT´S INFORMATION
Villalgordo del Júcar
Village of Albacete whose parish from Magdalene is originally of the XIII century with modifications in the centuries in the XVI-XVIII centuries. Close to the village is the cave of Saint Catalina of Cardona who met Saint Teresa of Jesus in 1580 and who motivated the construction of a Carmelita convent. Other touristic attraction is the Museum of the Reservoir Correas and Tebar with more than 5.000 elements from the XIX century, from metal, clothing, carton, piece of glass, with identifications and other of decoration. There are different caves where the champignon mushroom is cultivated. The palace of the Gosalvez is of French Neoversallesc style, of the beginning of the XX century, and its surrounding there are gardens with palms of South America. In the village there is an awesome bridge and a jump of water above the river.
Tours
Palace of the Gosalvez, Don Juan's Bridge, Park Hondo del Rio, Medieval Village Alarcón, Hoces Cabriel, Ruidera lagoons, etc
Activities
Hiking, mountain bike routes, climbing, paintball, fishing, wine tourism, gastronomic routes, etc…